The independence day cake that is sure to be a crowd-pleaser. This is such a fun, unique cake to make for the 4th of July!
You are going to absolutely love this flag cake recipe. The cake starts with a homemade white cake mix that can easily be substituted for a box mix if you prefer.
I then use my new favorite stand-up mixer to make a simple cream cheese frosting. Of course, as always, that too can easily be substituted for a pre-made frosting.
Lastly, this independence day cake is topped with a homemade edible flag. Or, I should say, designed with the patriotic red, white and blue stripes using fresh fruit.
Either way, I used fresh blueberries, raspberries, and banana slices to make the stripes. As you can see, it's not exactly to scale, but I think it gets the job done.
How to Make an Independence Day Cake That Will Wow Your Guests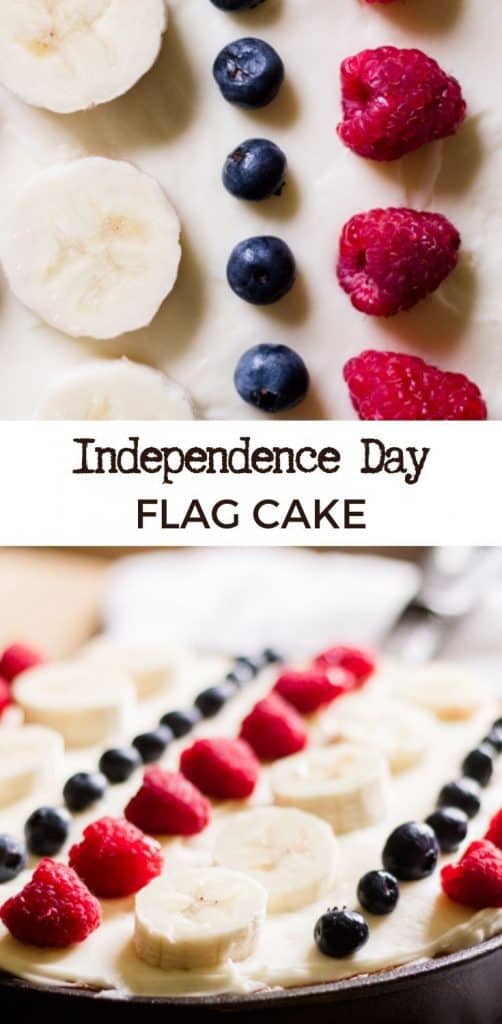 White Cake Recipe
For the cake base, cream together sugar and butter; set out the butter ahead of time to make this part easier.
Then, in a separate small bowl, quickly beat the eggs and mix those along with vanilla extract and salt in with the sugar and butter.
Now add the flour and baking powder and mix in well.
Finally, slowly stir in the milk until the flour is well combined.
Transfer to a cast iron skillet and bake at 350° for 25 minutes or until a toothpick inserted into the center comes out clean.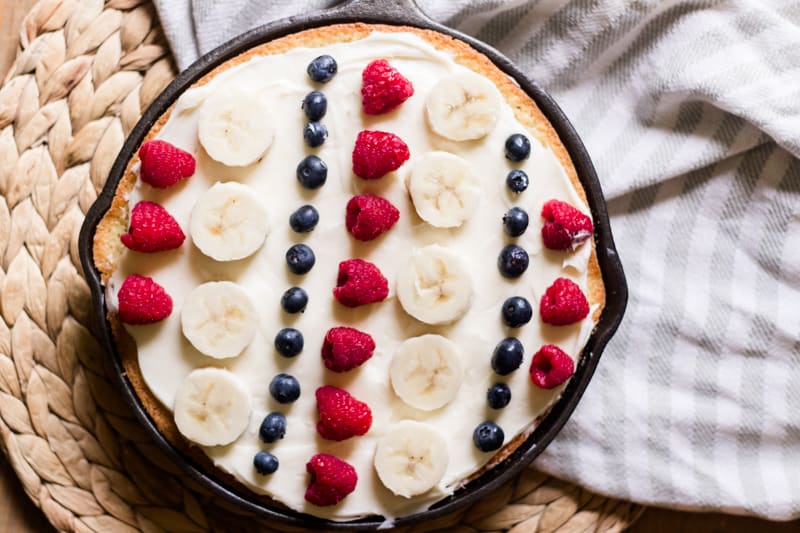 How to Make the Cream Cheese Frosting
While the cake is baking away in the oven, now is the perfect time to put together that homemade cream cheese frosting.
Making homemade frosting is really about as easy as it gets.
First, use a stand-up mixer or kitchen aid and cream the butter, cream cheese, and salt. Next, sift in powdered sugar until you have a thick, smooth, creamy texture.
Finally, once the cake is done and cooled, top it with frosting and position the fruit accordingly to look like an American flag or stripes.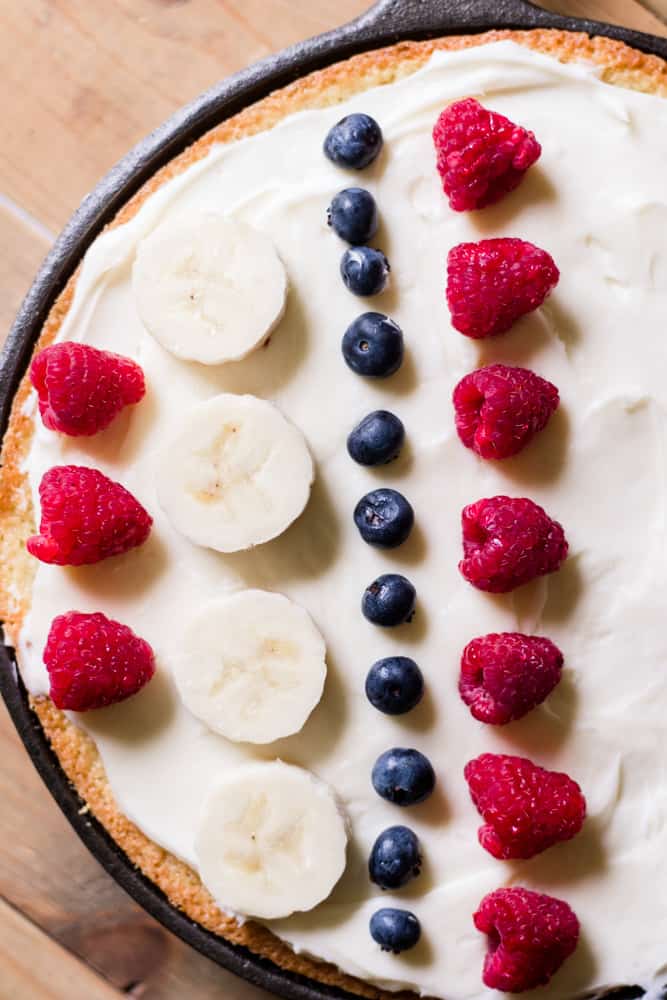 Recipe Variations
What other kind of cake base would work?
Good alternatives are yellow, velvet, or a confetti type of cake. Or there is no shame in using a box mix.
What kind of fruit is best?
Fresh fruit is best. Frozen fruit, when it starts to melt, will bleed out all over the cake. You can always substitute raspberries for sliced strawberries, and rather than using bananas, use the extra frosting by adding it to a ziplock bag, poking a small hole, and squeezing a thick white line for the white stripes.
For the Frosting
Try cream cheese frosting, homemade or store-bought, or whipped cream.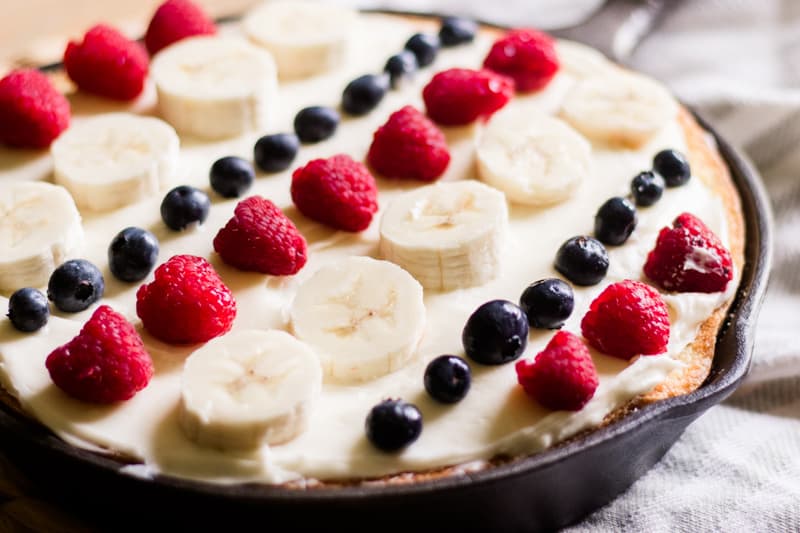 How to Store
The cake and frosting can both be made ahead the night before. Cover the frosting and store in the fridge until right before serving.
More Dessert Favorites
Independence Day Cake
Additional Time:
10 minutes
An eye-appealing independence day flag cake topped with fresh fruit.
Ingredients
1 ½ cups of flour
1 cup of granulated sugar
1 ½ tsp baking powder
2 tsp vanilla
2 eggs + 1 egg white
½ tsp of salt
½ cup of milk
2 sticks of butter
1 brick of cream cheese
2 cups of powdered sugar
Instructions
Cream together granulated sugar and 1 stick of butter.
Beat the eggs with the egg whites and add to the bowl along with vanilla and salt.
Mix in flour and baking soda well.
Slowly pour milk into the mixture and stir until smooth.
Bake @ 350°F for 25 minutes or until a toothpick inserted into the center comes out clean.
For the frosting, use a stand-up mixer and cream the remaining stick of butter with cream cheese and a pinch of salt.
Add powdered sugar and continue mixing until a thick creamy texture has been reached.
Frost the cake before serving and position the fruit accordingly.
Nutrition Information:
Yield:

8
Serving Size:

1
Amount Per Serving:
Calories:

536
Total Fat:

26g
Saturated Fat:

16g
Trans Fat:

1g
Unsaturated Fat:

8g
Cholesterol:

112mg
Sodium:

464mg
Carbohydrates:

72g
Fiber:

1g
Sugar:

52g
Protein:

5g
Nutrition is calculated by Nutronionix. All nutrition should be verified independently.