Inspired by the famous Applebees Maple Blondie, this white chocolate chip blondie, with my own delicious spin, does not disappoint.
White Chocolate Skillet Blondie
This white chocolate skillet blondie is surprisingly simple to make and only really requires one dish. I have enjoyed Applebee's blondies for as long as I can remember.
They seem to have changed some over the years but are always brought out on that same piping hot small cast iron skillet.
Of course, being me, I got to thinking about how I could improve on such a recipe.
So I took what I liked the best from the flavors and came up with this white chocolate chip blondie (white chocolate is so underrated, in my opinion) with a homemade vanilla maple cream sauce topping.
And, of course, a large scoop of vanilla ice cream will find a place somewhere on this dish as well.
Is the Maple Cream Sauce Optional?
I asked myself this very question. And no, it is not optional. Yes, the white chocolate blondie is delicious on its own, but why not make it even better?
It only takes a couple of minutes while the blondie is in the oven to whip up this unbelievable creamy maple sauce to "WOW" anyone you share this with. Assuming you are planning on sharing.
How to make these White Chocolate Chip Blondies
So, As I said, these are not too difficult to make; if you have two cast iron skillets, great!
If not, use a small frying pan for the sauce. So this recipe, like most of my recipes, I get an idea and pretty much just start measuring out ingredients until the consistency is what I'm looking for.
Begin by melting the butter in a skillet on low heat. Then, add in brown sugar and vanilla stirring every so often.
While the butter is melting, combine flour, baking powder and salt in a small mixing bowl.
Then add in the melted butter and sugar along with one egg.
Mix with a hand mixer until everything is well combined. Don't over-mix! Add in the white chocolate chips and give them a quick swirl.
Coat your skillet in butter or oil and add the batter, spreading out smoothly and evenly.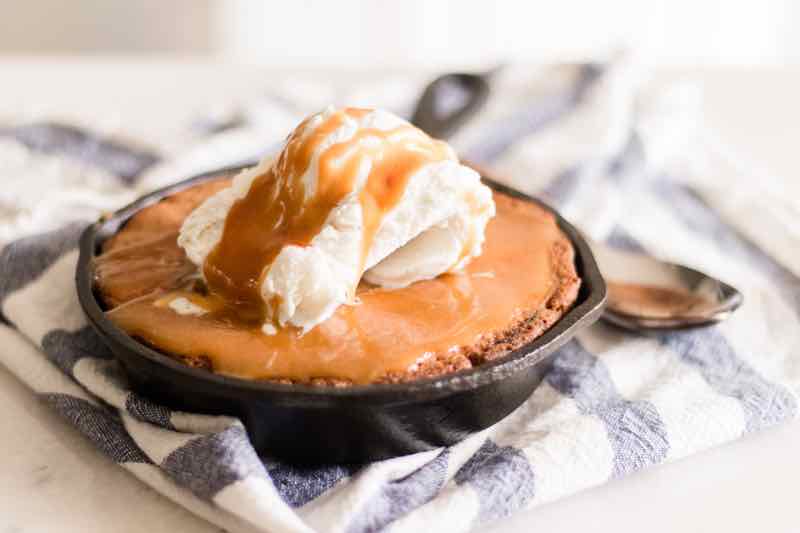 How to know when the blondie is done
Bake in a preheated oven for about 15-20 minutes. You will see the sides start to "crisp up," and the top turn golden brown. The middle may still seem a little doughy, but that is fine.
The blondie will continue to cook once removed from the oven from the heat retained in the cast iron skillet.
How To Make The Best Skillet Blondie?
It mostly comes down to baking temps and times. But something about enjoying it right out of the skillet is a sort of cozy you can't quite get any other way.
After making this for the first time, I found using a 6″ cast iron skillet, well seasoned; it takes about 15 min at 350°.
That will get your white chocolate blondie just a bit crunchy on the sides and a slight gooeyness in the middle, which, personally, is the way to go.
If you don't want it doughy in the middle, cook the dish at 325°F for a total of 25-30 minutes, or until a toothpick inserted in the middle comes out clean.
What Are Blondies?
A blondie is essentially a brownie without the chocolate, often referred to as the blonde brownie.
Generally, a blondie will have a vanilla flavor and often have some sort of nut or chip (chocolate, white chocolate, etc.).
Tips for enjoying White Chocolate Blondies
Serve the blondie warm, not hot. (to keep the ice cream from melting too quickly)
If you are not into gooey, bake until a toothpick comes out clean. You may want to cover it with aluminum foil to prevent the top from burning.
Right before serving: top with a scoop of ice cream and drizzle with the maple cream sauce. Serve immediately.
Don't mess with plates; enjoy right out of the skillet.
White Chocolate Blondie
I chose the white chocolate chips for this blondie recipe because I think it pairs perfectly with the homemade creamy maple vanilla sauce.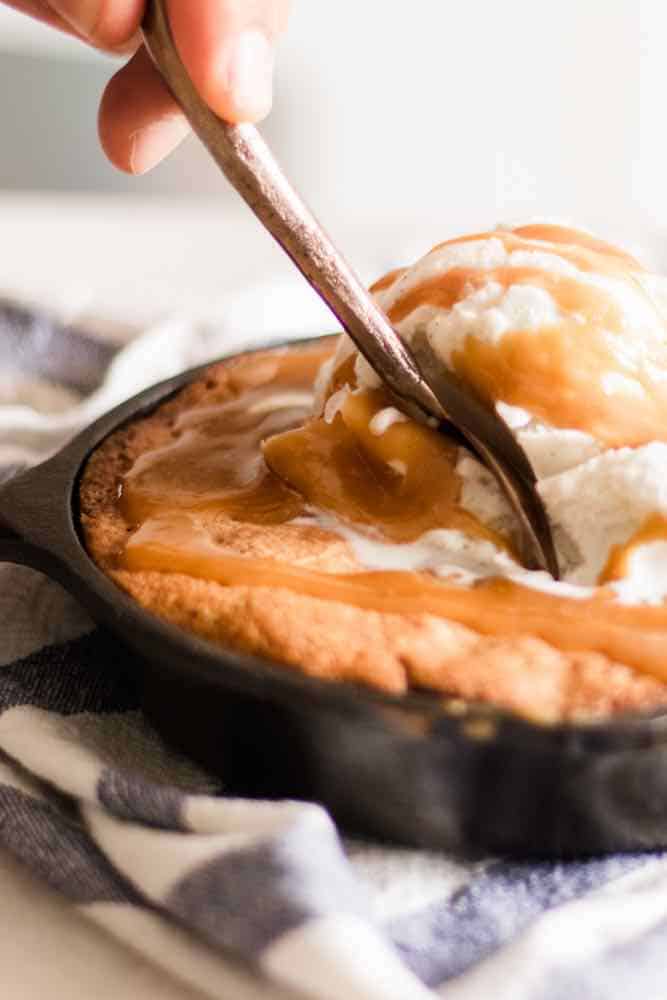 How to Make Vanilla Maple Cream Sauce
1/4 Cup of maple syrup
2 Tbsp butter
2 Tbsp heavy whipping cream (plus some for thinning)
1 Tsp vanilla
Melt all ingredients in a small cast iron skillet over medium heat for about 5 minutes, then reduce heat to simmer and stir occasionally until it starts to thicken.
If needed, thin out with heaving whipping cream, adding about a tbsp at a time and stirring.
Pour it over the top of the skillet blondie, and dive in.
Takeaways
This is a simple one-dish dessert best enjoyed with a friend and a glass of milk.
If you are looking for a quick dessert idea that you don't need a lot of unique ingredients for, this dessert is the way to go.
For more incredible dessert ideas, try one of these favorites below!
White Chocolate Skillet Blondie With Maple Cream Sauce
Oooy Gooey White chocolate blondie goodness. Served with ice cream and a maple vanilla, cream sauce.
Ingredients
1/2 Cup of flour
1/4 Tsp of baking powder
1/8 Tsp of salt
1 Egg
1/2 Cup of brown sugar
1 Tsp of vanilla
2 Tbsp of butter
1/2 Cup of white chocolate chips
Instructions
Melt butter in skillet until it starts to bubble, then add brown sugar and vanilla.
In a small mixing bowl, combine flour, baking powder, and salt, mixing well.
Add the melted ingredients from the skillet along with an egg and continue mixing until well combined. Don't over mix.
Add in white chocolate chips and give it a quick swirl.
Using the same skillet you melted the butter, prep with butter or oil, and transfer the blondie dough to the skillet.
Preheat the oven to 350°F, place on the center rack, and bake for 15-20 minutes.
Notes
Allow to cool slightly before topping with ice cream and homemade maple vanilla cream sauce.
Nutrition Information:
Yield:

2
Serving Size:

1
Amount Per Serving:
Calories:

657
Total Fat:

28g
Saturated Fat:

16g
Trans Fat:

0g
Unsaturated Fat:

9g
Cholesterol:

132mg
Sodium:

379mg
Carbohydrates:

94g
Fiber:

1g
Sugar:

70g
Protein:

9g
Nutrition is calculated by Nutronionix. All nutrition should be verified independently.