Imagine sinking your teeth into a superbly flavored, tender chicken breast hot out of the dutch oven.
With an unbelievably crispy brown crust, this whole roast chicken recipe, cajun style, is the perfect weekend dinner recipe.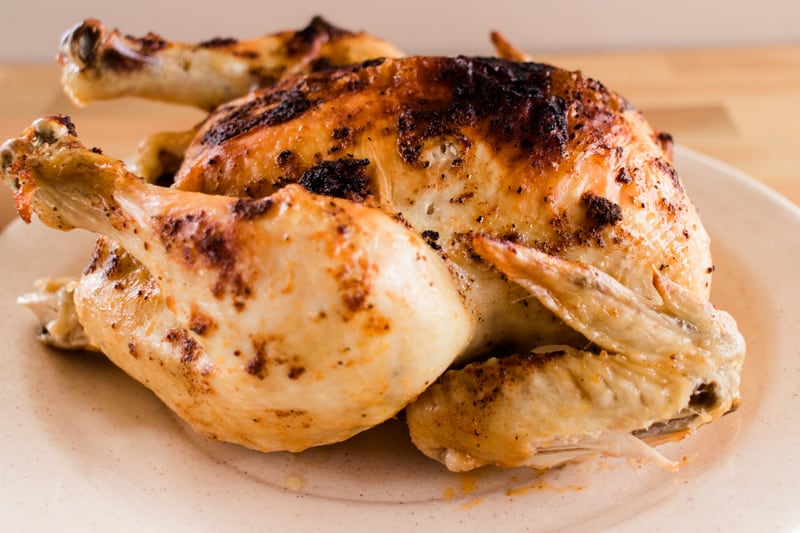 Cooking a whole chicken requires maybe 10 minutes of prep work. And after that, the oven does all the work. So toss it in, and don't worry about it until the timer comes a calling!
Choosing the best method for cooking chicken comes down to what you are making. The dutch oven certainly makes for an easy one-dish chicken dinner recipe.
benefits of a dutch oven
Versatility: This one-pot does it all from high temp flash searing meat to stovetop fried chicken to slow-cooked brisket.
Heat retention and distribution: Dutch ovens keep a consistent, uniform temperature which is necessary for searing meats on the stovetop or baking bread in the oven.
Non-stick: Used correctly, the smooth, enameled finish in most dutch ovens eliminates any chances of food getting stuck in any pitting causing sticking.
Similar to a cast-iron skillet, dutch ovens, in most cases, will need to be preheated with a little oil to become non-stick.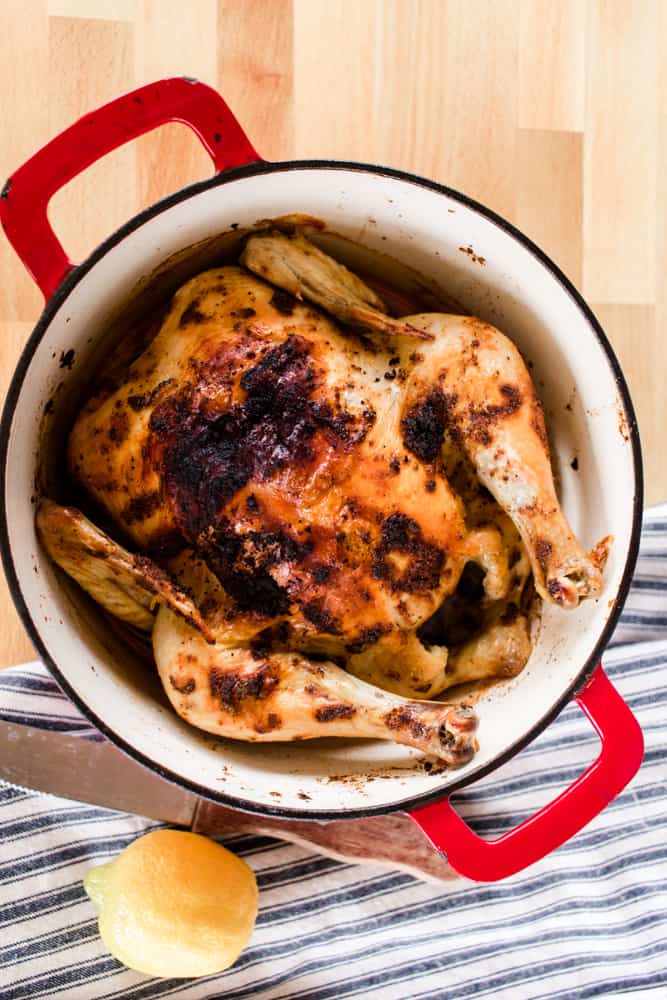 Dutch Oven Roast Chicken
With virtually unlimited variations for different moods, see below for a few of my favorites. Otherwise, read on to make this cajun roast chicken.
Thoroughly defrost chicken and remove giblets if it has not been removed already.
Pat dry the chicken with a paper towel or hand towel. To ensure a nice crispy crust, do not skip this step!
Melt butter in a small ramekin or cast iron skillet. Or substitute butter for the cooking oil of choice.
Stir in cajun spices; salt, pepper, paprika, cayenne pepper, garlic powder, chili powder and celery seed.
Use a spoon or your fingers and cover the whole chicken with the cajun paste. Leave no area uncovered; coat the wings, legs, bottom and top.
Lightly coat the dutch oven with a little coconut oil or with your preferred cooking oil.
Place half of one lemon into the center cavity of the chicken and gently set into the dutch oven, breast side up.
Cover and bake @ 375°F for one hour; after an hour, increase the temperature to 400, remove the lid, and continue baking until cooked through; about 30-35 minutes.
How to serve your whole cajun chicken
Once the meat is done, set the chicken aside to rest for 15 minutes or so to give the juices time to spread back evenly into the tender meat.
Have you ever cut into a chicken right out of the oven without giving it the proper time to rest?
According to this article, letting the meat cool some after cooking gives the liquid time to redistribute throughout the muscle fibers resulting in a tastier, juicier meal.
To stretch this dutch oven chicken, serve with potatoes, butternut squash (try this delicious cheesy bacon butternut squash recipe), or roasted garlic parmesan brussel sprouts.
Roast chicken leftovers
Here are a couple of ways to use up that leftover chicken and reduce waste.
Chicken and rice: Use up the leftover chicken by serving it up with rice and broccoli.
Chicken tacos: Take the extra meat and put together some street tacos for lunch the next day.
Chicken sandwich: This is especially great with leftover chicken breast. Slice the breast into thin slices and serve on a toasted brioche bun or your favorite artisan-style bread.
Chicken soup: Just add vegetables, noodles, and chicken broth. This is a perfect opportunity to make bone broth with the leftover chicken carcass.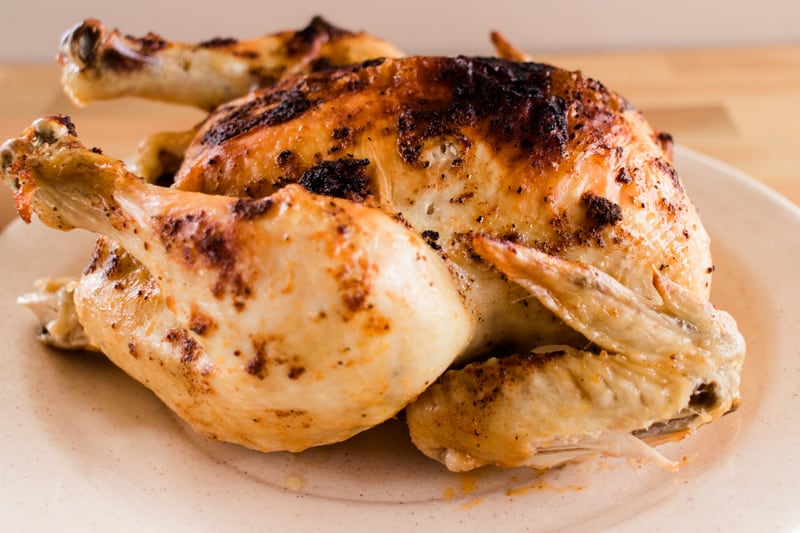 recipe variations
No matter how you choose to season your chicken, it's guaranteed to be a hit.
Follow the same instructions as above, only swapping out the spices.
Italian: Salt, pepper, basil, oregano, rosemary, thyme
Curry: Salt, pepper, coriander, nutmeg, celery seed, cumin and onion powder
Bbq: Salt, pepper, chipotle chili pepper, smoked paprika, onion powder and brown sugar.
Or you can always keep it simple, seasoning the whole chicken with just some salt and pepper.
Just make sure to cover your dutch oven roast chicken for the first half of cooking. Everyone loves a crispy crust chicken, and no more.
And that's it. Give this one-dish whole chicken recipe in the dutch oven a try and let me know what you think in the comment section below!
You may enjoy this 20-minute boiled chicken thighs recipe next!
Dutch Oven Roast Chicken
Cook Time:
1 hour
30 minutes
Additional Time:
15 minutes
Total Time:
1 hour
55 minutes
One-pot crispy roasted cajun whole chicken with a homemade cajun butter glaze.
Ingredients
1 whole chicken, 5-6 lbs
½ of a lemon
3 tbsp butter
1 tsp salt
½ tsp pepper and garlic powder
¼ tsp each of paprika, cayenne pepper, chili powder and celery seed
Instructions
Pat dry chicken with a paper towel and remove the giblets if it came with them. (most store-bought do)
Melt the butter in a small ramekin or skillet.
Add spices and stir in well.
Use a spoon or your fingers to coat the entire chicken. Be sure to cover the wings, legs, bottom, and top of the chicken.
Lightly coat the dutch oven with a bit of coconut oil.
Place the lemon in the center cavity, then set the chicken breast side up in the dutch oven.
Cover and bake @ 375°F for one hour. After an hour, remove the lid, increase heat to 400 and bake an additional 30 minutes or until cooked through.
Let rest 15 minutes before serving.

Notes
Use an instant thermometer in the thick part of the thigh to check the internal temperature. Chicken must be cooked to an internal temperature of 165° F.
Nutrition Information:
Yield:

6
Serving Size:

1
Amount Per Serving:
Calories:

297
Total Fat:

20g
Saturated Fat:

7g
Trans Fat:

0g
Unsaturated Fat:

10g
Cholesterol:

103mg
Sodium:

529mg
Carbohydrates:

2g
Fiber:

1g
Sugar:

0g
Protein:

28g
This website provides approximate nutrition information for convenience and as a courtesy only. Nutrition is calculated by Nutronionix
See below for more great recipes!