Homemade chicken pot pie is the ultimate comfort food made with savory meat and vegetables topped with flaky homemade biscuits.
Homemade Chicken Pot Pie
Pot pie is one of those meals I remember well as a kid. It was generally a weekend or company meal. What seemed like a rather intense meal to make, in all actuality, not so. You can make a from-scratch chicken pot pie in under an hour. And, it's all made in one dish; a cast iron skillet for easy cleanup.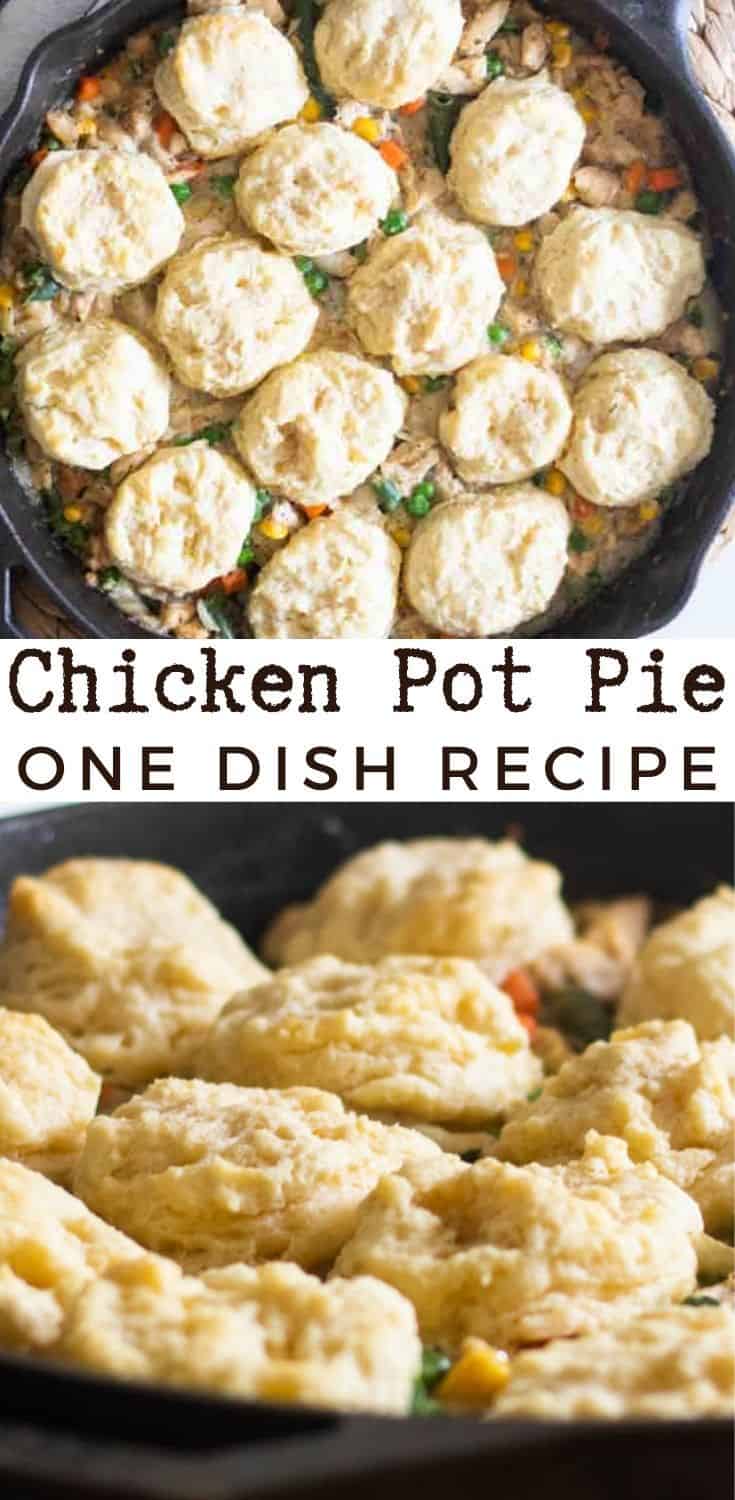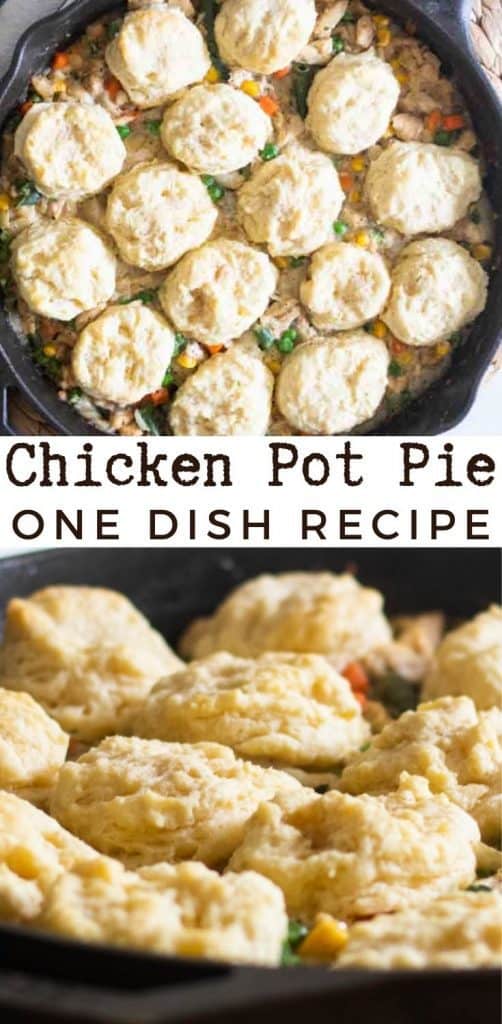 Cast Iron Skillet Chicken Pot Pie
Use a cast iron skillet when making a pot pie. It can be a true, one-dish dinner by using canned biscuits. I make the filling completely in the skillet, then, when done, top with biscuits and bake until done.
For the Filling
Saute onion and garlic in a large skillet with butter until soft. Add seasonings and flour, give that a quick swirl, then pour in the milk and chicken stock. Chicken or beef stock will work great. Stir with a wooden spatula until it thickens, about 5-7 minutes. Next, add a pack of frozen mixed veggies and cooked chicken.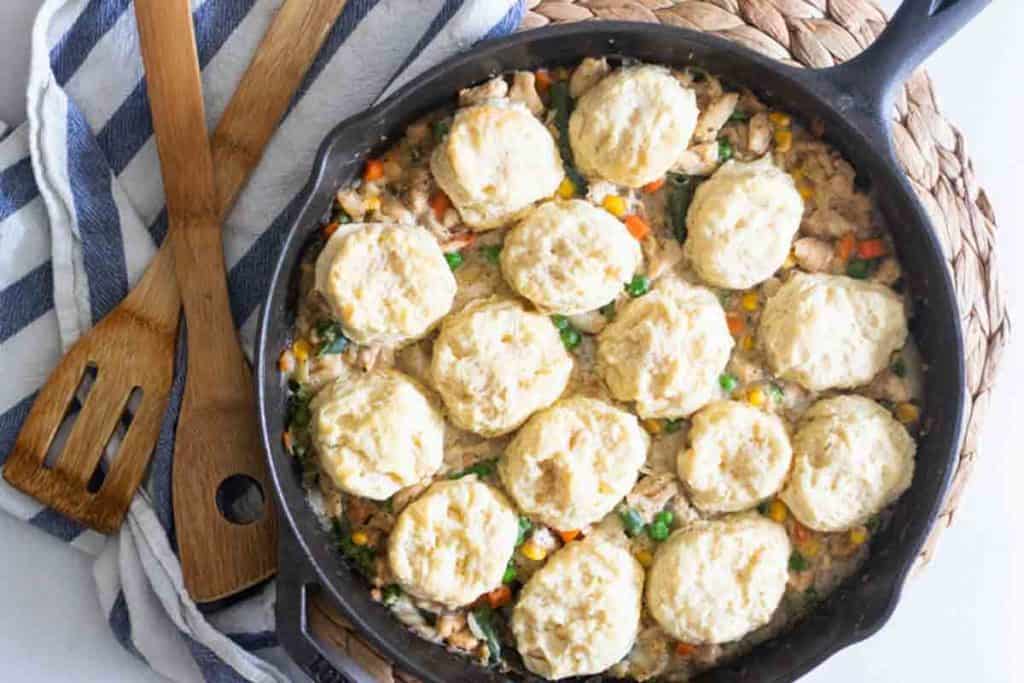 I made the chicken ahead of time in the cast iron skillet using chicken tenders with a little oil, then pan-seared until done—about 10 minutes.
If you prefer, bake a whole chicken ahead of time using either a dutch oven or cast-iron skillet and shred the meat into small pieces.
If using cheese, add that in now, mix everything together well and set aside.
For the Biscuits
Using biscuits for the breading makes for a wonderful light flaky topping that really compliments the rich, hearty and flavorful base of a filling.
In a medium-size mixing bowl, combine flour, baking powder, and salt. Stir in shredded butter until it is well mixed in with the flour, then add the milk. Once everything is combined, transfer the dough to a lightly floured cutting board, flatten it out, and fold it over in half. Repeat two more times, folding over and flattening out.
Using a cookie cutter or the rim of a cup, cut the dough into circles and place on top of the chicken pot pie filling. Once the biscuits have been cut out, gently work the dough back together to get a few more biscuits.
In a preheated, 350°F oven, bake for 30 minutes or until biscuits are done. If time does not permit, canned biscuits will work quite well.
What to Serve With Cast Iron Chicken Pot Pie
Vinaigrette Salad
Fresh Veggies, such as sliced peppers, tomatoes, or carrots
Mashed Potatoes
Popular Chicken Recipes
Chicken Pot Pie With Homemade Biscuits
A hearty comfort food perfect for any occasion topped with homemade biscuits
Ingredients
Filling
1 ½ lb cubed and cooked chicken
1 bag of frozen, mixed veggies
½ cup of unbleached white flour
1 ¼ cup of chicken or beef stock
½ cup of whole milk
1 onion, diced
3 cloves of garlic, minced
2 tbsp butter
1 tsp salt
1 tsp parsley
½ tsp each of pepper, garlic, onion powder, and thyme
¼ tsp of cumin
½ cup of shredded cheese, optional
Biscuits
1 ¾ cup of unbleached flour
1 tbsp baking powder
½ tsp salt
4 tbsp butter, shredded (partially frozen is best)
¾ cup milk
Instructions
For the filling, saute onion and garlic in butter until soft.
Stir in seasonings and flour.
Add milk and broth, stir until it thickens—about 5 minutes.
Stir in veggies, chicken, and cheese, remove from heat.
For the biscuits, combine flour, baking powder, and salt.
Stir in butter until everything is mixed well.
Add milk and mix well.
Once the dough holds together, transfer to a lightly floured wooden cutting board.
Flatten the dough out, then fold in half and flatten. Repeat 2 more times.
Cut out biscuits using a cookie cutter or the rim of a cup.
Set the biscuits on top of the filling and bake at 350°F for 30 minutes.
Nutrition Information:
Yield:

8
Serving Size:

1
Amount Per Serving:
Calories:

482
Total Fat:

25g
Saturated Fat:

11g
Trans Fat:

0g
Unsaturated Fat:

11g
Cholesterol:

121mg
Sodium:

886mg
Carbohydrates:

34g
Fiber:

2g
Sugar:

2g
Protein:

30g
Nutrition is calculated by Nutronionix. All nutrition should be verified independently.