Honey biscuits are a real treat, from the layers of flakey buttery goodness to the sweet tooth satisfying honey.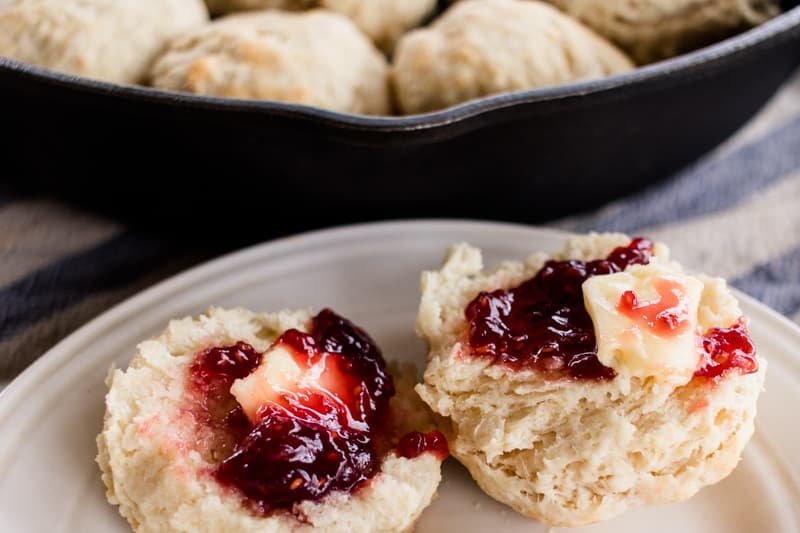 Have you tried making biscuits before? After making this honey biscuit recipe you will be steering clear of those frozen biscuits because the delicious flavor of these homemade honey biscuits are unmatched.
I do love biscuits as much as the next, layering them on top of chicken pot pie and even using biscuits for the base of my homemade cinnamon donuts.
Yet, I have still not shared a plain, simple biscuit recipe. Well, until now.
What kind of ingredients will I need
The best part about this honey biscuit recipe is that you likely have the ingredients on hand. I make these two ways.
With honey or without honey. The texture – remains the same. The flavor, well, as you can imagine, the honey biscuits are sweet.
How to make honey biscuits
The key to making the perfect biscuits is the butter. You'll want to freeze the butter ahead of time to ensure you end up with a flakey biscuit and not a dinner roll.
Ingredients:
All-purpose flour
baking powder
salt
butter
honey
whole milk
Yup, that's it. Six ingredients are all you need to make these sweet honey biscuits. So lets get into the meat of things and actually make these delightful little breakfast treats.
Honey biscuit recipe
Chill butter ahead of time for at least 30 minutes in the freezer.
Preheat the 12″ cast iron skillet in the oven at 425°F.
Combine the flour, baking powder and salt in a large mixing bowl.
Use a box grater to shred the butter into small flakes.
Add the butter to the mixing bowl and stir in well.
Next, stir the honey and milk in with the dry ingredients. (It should be crumbly, but hold together)
Transfer the dough to a lightly floured countertop or cutting board.
Gently work the dough flat with the palm of your hands, then fold it over and work it flat again. Repeat this process 3-4 times.
Flatten the dough out to about a half to a three-fourths inch thick and use a cookie cutter or the rim of a cup to cut out the biscuits.
Once as many biscuits have been cut out as possible, rework the dough to get the last few remaining biscuits.
Place each honey biscuit carefully into the hot cast iron skillet.
Bake 12-13 minutes or until the tops are lightly golden brown.
And that's all there is to it. Homemade biscuits from scratch are really that simple, which begs the question; why make frozen biscuits?
Homemade honey biscuits go great with breakfast casseroles, quiche, or your favorite omelet.
Biscuit cooking tips:
Remember that flour is your friend! Lightly flour the countertop and your hands to keep the dough from sticking.
Be sure to use frozen butter for a flakey finish and hot pockets of melted butter throughout the biscuit
Bake only in a preheated oven for best results.
*Update* After making this honey biscuit recipe more times than I can count, I noticed that the biscuits do not stick to the skillet, regardless of whether it has been oiled, preheated, or not preheated.
The bottoms turn out slightly more crispy in a preheated skillet, but the differences are minimal at best.
Wrapping up
I do hope you enjoyed these honey butter biscuits. Biscuits are so versatile; they can be served as they are or with any number of meals.
Be sure to let me know what you think in the comments below, and for more great recipe ideas, check out some of these breakfast favorites below.
Honey Biscuit Recipe
Homemade honey butter biscuits are perfect for breakfast, served with butter, jelly, or your toppings of choice.
Ingredients
1 ¾ cup of all-purpose flour
1 tbsp of baking powder
½ tsp of salt
4 tbsp of butter
2 tbsp of honey
¾ cup of milk
Instructions
Place butter in the freezer at least a half-hour ahead of time.
Preheat the 12" skillet in the oven to 425°F.
Combine flour, baking powder, and salt in a mixing bowl.
Shred the frozen butter with a box grater, then stir in with the rest of the dry ingredients.
Add honey and milk to the dry ingredients.
Work the dough until it holds together, and then transfer to a lightly floured countertop.
Dust hands with a little flour, and flatten the dough with the palms of your hands, folding over and flattening out again. Repeat this process about 3 or 4 times.
Finally, flatten the dough about ½ ¾" thick or so and cut out biscuits with a cookie cutter or the rim of a cup.
Rework the dough to get the last remaining biscuits cut
Add a dash of oil to the skillet before placing the biscuits in.
Bake 12-13 minutes or until tops are lightly golden brown.
Notes
For well-seasoned skillets, preheating the skillet is not required.
Nutrition Information:
Yield:

5
Serving Size:

1
Amount Per Serving:
Calories:

286
Total Fat:

10g
Saturated Fat:

6g
Trans Fat:

0g
Unsaturated Fat:

3g
Cholesterol:

27mg
Sodium:

617mg
Carbohydrates:

43g
Fiber:

1g
Sugar:

9g
Protein:

6g
This website provides approximate nutrition information for convenience and as a courtesy only. Nutrition is calculated by Nutronionix