Cast iron skillets are virtually indestructible. So don't be hampered by a little rust that may collect on your favorite non-stick pan.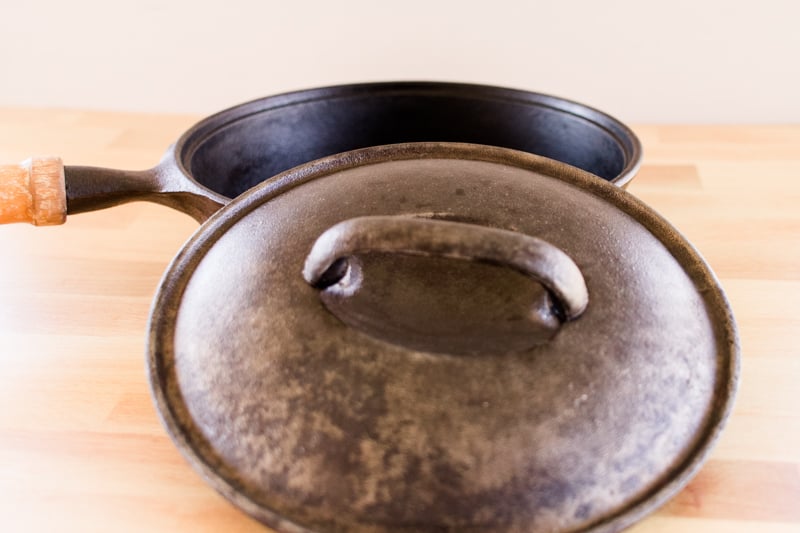 Choose the "jump-to" button to skim past the commentary and dive right into cleaning the rust off of cast iron.
For the rest of you, read on.
Cleaning Rust off of cast iron
I'm going to show you two methods to clean rust off of cast iron—basically, the two first stages of rust; Light surface rust and minor rust scales/pitting. We'll save restoring rusty old skillets for a later date.
Mild surface rust: mild surface rust can happen in as basic of a problem as washing without drying. Cast iron is incredibly susceptible to rust, especially if the seasoned skillet is due for a re-season.
Aggressive rust stage: We're talking rust past the point of "wiping away" but not to the point of a complete restore.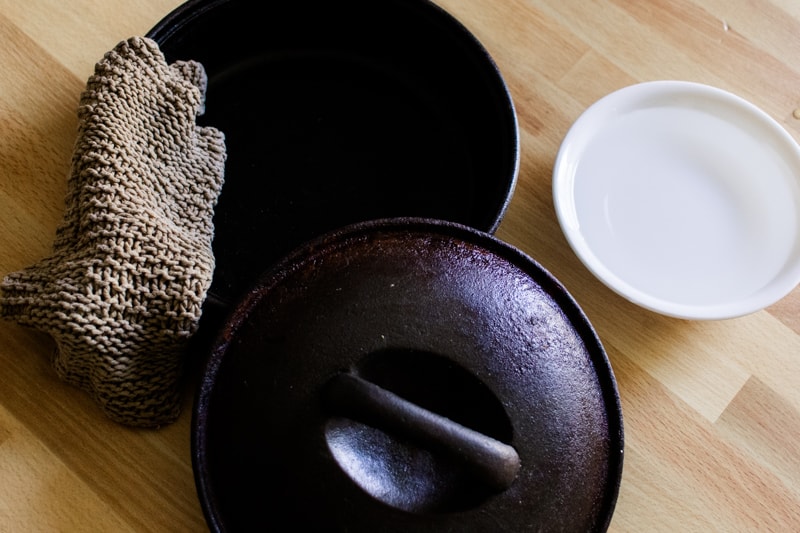 how to clean surface rust off cast iron skillets
For surface rust, dab a rag in cooking oil and wipe the skillet clean. It's also a good idea to add a little oil to the bottom of your skillet after each use to help prevent rust from forming.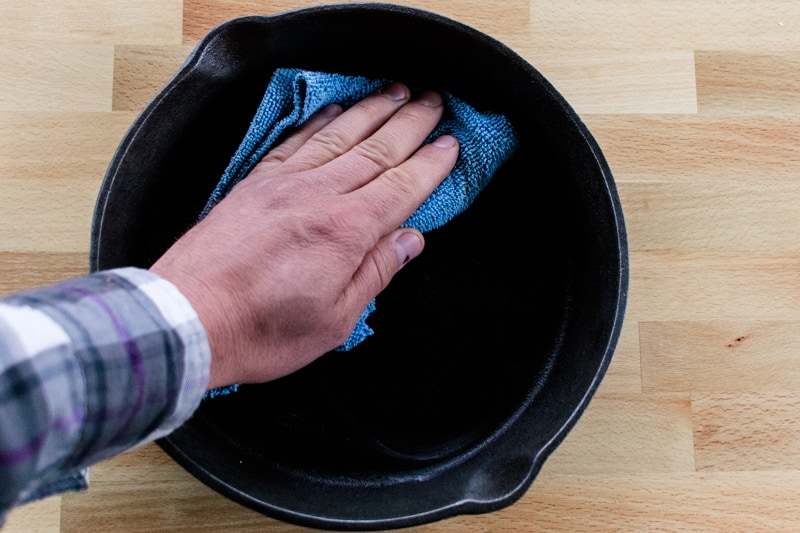 how to clean rust off of cast iron with vinegar
The easiest and arguably the most effective way to clean rust off cast iron is to use a vinegar-water solution. Vinegar dissolves rust quite well, making cleaning your rusty cast iron skillet a relatively simple process.
Start by assessing the situation, is the whole skillet rusty, or just the lid, as was the issue with my cast iron skillet.
Then, get a Tupperware or even a Rubbermaid tote big enough to fit the skillet and fill it with equal parts water and vinegar. Fill it just enough for vinegar and water to completely submerge the skillet. (I use a 50/50 vinegar to water ratio).
Alternatively, If you just have a couple of spots of rust, say on a corner, just soak a rag in vinegar and lay it across the rusted section.
Let it sit for at least a couple of minutes or up to an hour, depending on the level of rust. In extreme cases of rust, you may have to leave the skillet in the solution for up to 6 hours.
Use a fine-grade piece of steel wool, a scrubbing brush, or in more extreme cases, a wire brush on the end of a drill and scrub the rust loose.
Rinse the rust off and repeat the process as many times as necessary until no more rust remains.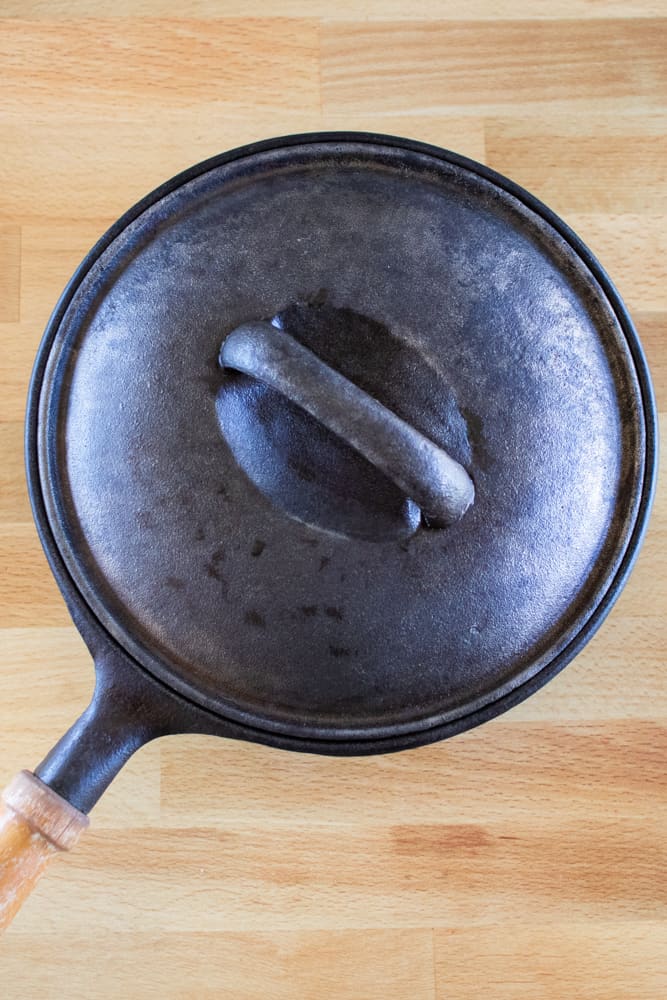 Once all the rust has been removed from your cast iron skillet, wash it well with soap and water. Don't worry; the soap isn't going to hurt anything at this point since the skillet will have to be seasoned anyway.
After the skillet has been cleaned, dry it thoroughly before coating the inside, outside, bottom and handle with coconut oil. Then, go over it again with a dry rag or paper towel and wipe away any excess oil. If your skillet has a wooden handle, remove it before coating it with oil.
Stick it in the oven at 350-400°F for about an hour upside down on the top rack. After an hour, shut the oven off and leave the skillet in it until cool.
Check the pan for a nice hard glossy like coating. If needed, reseason until you have a solid smooth glaze in the bottom of the skillet.
And that's it! You should have a nice, clean, rust-free, non-stick cast iron skillet ready for use! Now get cooking with some of these fan favorites below!
For more tips on how to season a cast-iron skillet, click HERE.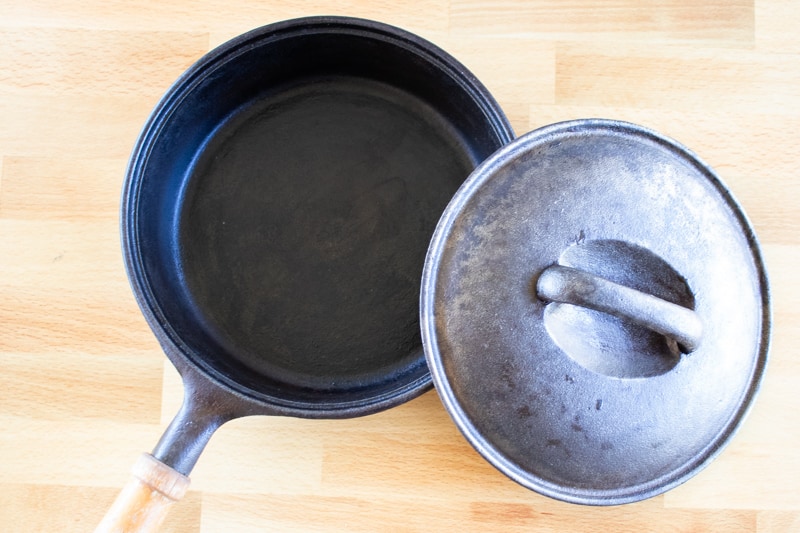 How to keep cast iron from rusting TIPS
Use a dish towel to dry after washing. (this means no air drying)
Keep the skillet well seasoned.
Lightly oil after each use.
Avoid slow cooking acidic foods such as tomatoes which can eventually strip the seasoning.
How to Clean Rust off a Cast Iron Skillet
Total Time:
1 hour
25 minutes
Get your old cast iron looking as good as new with this simple solution.
Tools
Scrubbing brush or wire brush
Instructions
Fill a Tupperware or Rubbermaid tote with equal parts vinegar and water.
Then, place the rusty skillet into the mixture.
Let it sit for about an hour or up to 6 hours in extreme cases.
Remove it from the solution and scrub clean.
Repeat steps 2-4 until no rust remains.
Clean skillet with soap and water. Dry the skillet completely.
Coat the entire skillet, top, bottom, and handle with coconut oil. Wipe the excess oil off with a paper towel.
Place upside down in the oven and bake at 400°F for an hour. Leave it in the oven till cool.