There is nothing, and I mean nothing, quite as fun as making eggs in a bagel.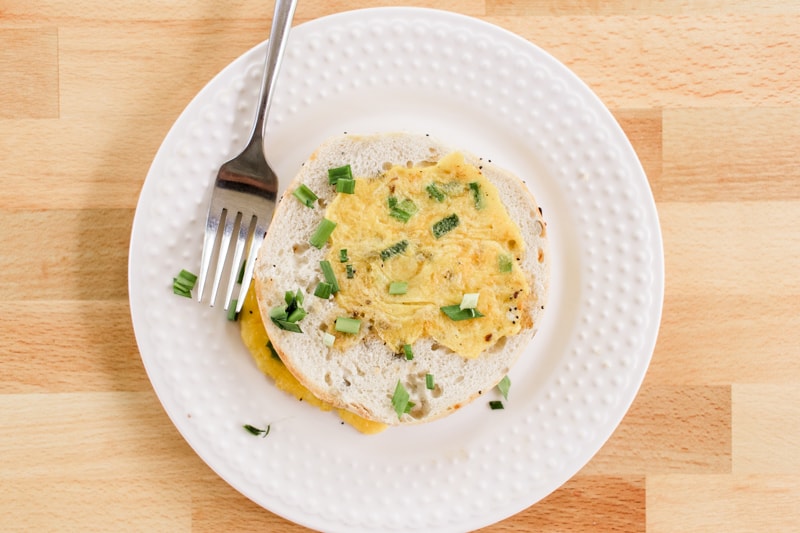 If you're looking for a leisurely breakfast recipe, then these eggs in a bagel should definitely be at the top of your list. They're quick and straightforward to make, and they taste amazing.
You can use any kind of bagel for this recipe, but I prefer using everything bagels because they add so much unique flavor.
Ingredients
Eggs: I love starting the day off with eggs. Eggs are a great source of protein and a perfect ingredient for any breakfast.
Chives: I love homegrown chives, but any fresh store-bought will be just fine.
Cheddar cheese: This was the game-changer for me. If you don't have cheddar cheese or are dairy-free, simply leave it out.
Salt & Pepper: What are eggs without a dash of salt and pepper?
Butter: I prefer regular old butter, while margarine or coconut oil will work.
Everything Bagels: I used homemade bagels with everything seasoning. Store-bought everything or plain bagels are both delicious.
Eggs in a bagel recipe
Beat the eggs, then mix in the rest of the ingredients and stir together well.
Heat a cast iron skillet over medium heat. Add butter to the skillet, tipping the pan to spread it around.
Cut a bagel in two, placing the cut side down onto the pan.
Carefully pour the egg batter into the hole until level with the sides of the bagel.
Once the bottom has cooked, carefully flip the bagel over, continuing to cook for an additional minute or two.
Transfer the bagel to a plate to cool slightly before topping with more chives and serving.
Why you'll love this recipe
You'll love these eggs in a bagel because they're delicious, healthy, and easy to make. They're perfect for breakfast, brunch, lunch, or as an appetizer at any meal.
Making an egg in hole breakfast like this is the perfect way to break out of the typical breakfast routine. Enjoy it with homemade sausage for a complete meal.
This recipe is made with simple ingredients and is loaded with flavor.
Any bread will work. An egg in a hole recipe is great with homemade bread, biscuits, and even English muffins.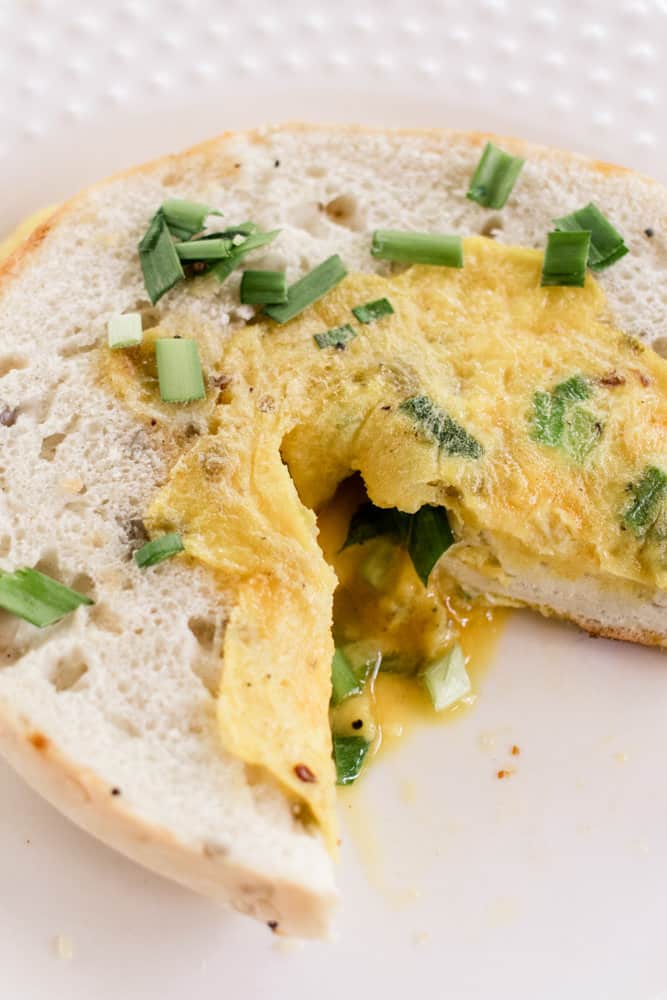 Tips:
Always start with the bagels flat side down. If not, the eggs may slide out when you try to flip them.
Use a knife to widen the hole to fit the eggs better.
If you don't have cheddar cheese, you can simply substitute it for your favorite type.
For bacon lovers, cook the bacon ahead of time, crumble and add it to the egg mixture. Your recipients will thank you!
What should I serve with these eggs in a hole bagel recipe?
There are plenty of great options, with fried sweet potatoes, hash browns, or a fruit salad being at the top of my list.
The eggs in a bagel will be a hit for everyone on your cooking list. So bring this bagel breakfast to your next family get-together. Everyone will be ranting over its uniqueness and savory flavor.
More breakfast recipes to try
Store any leftovers in an airtight container in the refrigerator for up to 4 days. Reheat in a toaster oven until warmed through.
Eggs in a Bagel
Eggs in a bagel are always a crowd-pleaser. Make this simple recipe for your next event or to bring for Sunday brunch.
Ingredients
3 eggs
1 tablespoon of diced chives, plus some for garnishing
1 tablespoon of cheddar cheese
Salt and pepper to taste
2 teaspoons of butter
2 everything bagels (cut in half, long ways)
Instructions
Heat a 12" cast iron skillet over medium heat.
Beat the eggs in a small ramakin.
Add the rest of the ingredients and stir well.
Butter the skillet, then place the bagels cut side down into the pan.
Carefully pour the egg batter into the hole, trying not to spill over the sides.
Let it cook for about 2-3 minutes before flipping and cooking an additional 1-2 minutes.
Top with fresh chives and serve immediately.