An easy-to-follow recipe to make the perfect omelette every time using on-hand ingredients.
Omelettes are by far my favorite breakfast; they are filling, healthy, delicious, and can be made using an array of ingredients.
What I put in an omelette usually is determined by what vegetables or meat I have on hand.
They are a great source of protein and an excellent way to add vegetables to your diet, the latter of which tends to seldom make the breakfast menu cut.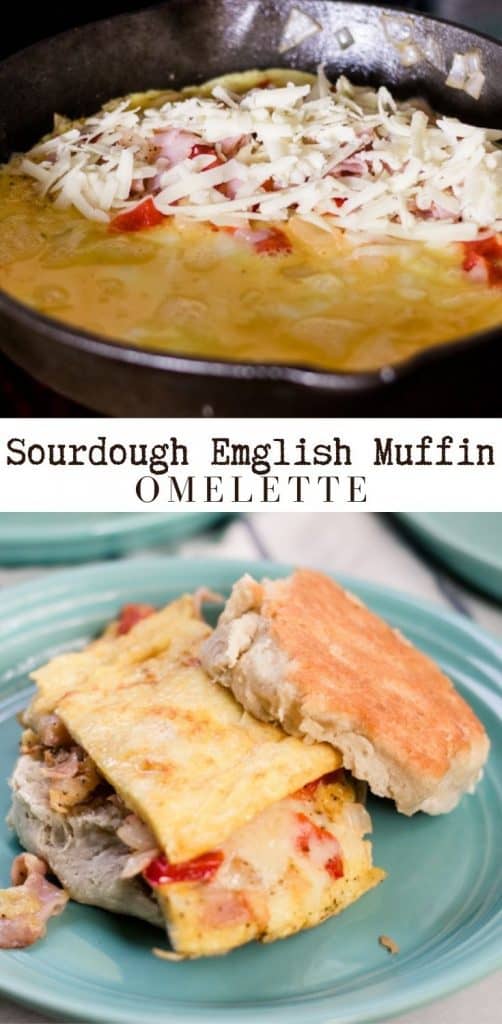 How to Make an Omelette English Muffin
This particular recipe is strictly focused on simplicity and flavor. Neither of which is a bad thing.
Pre-heat a 9″ cast iron skillet just below the medium heat setting.
Melt butter in the bottom of the skillet.
Add 3 whisked eggs and salt and pepper to taste.
Next, add about a quarter of a diced and sauteed red bell pepper to one-half of the omelette.
Top the same half with diced ham or bacon along with cheese (I used sharp cheddar). Once the eggs just start to set up, fold the plain side of the omelette onto the side with the toppings.
Reduce heat to low and continue cooking for an additional minute. Flip and cook until cheese melts. Remove from heat, slice in half and serve on an English muffin or breakfast biscuit.
If you are cooking for a hungry crowd, heat another skillet on a separate burner for some homemade pancakes to boot!
What do you put in an Omelette
Pretty much everything tastes great in an omelette which is why you will love this recipe. Below are a few favorites.
Bacon
Ham
Cheese, any kind
Peppers
Onions
Chives
Hash Browns
Spinach
Tomatoes
How Many Eggs for an Omelette
As a general rule to make an omelet such as this one includes ¾ of a cup of fillings with 3 eggs to make one omelette using a 9″ skillet.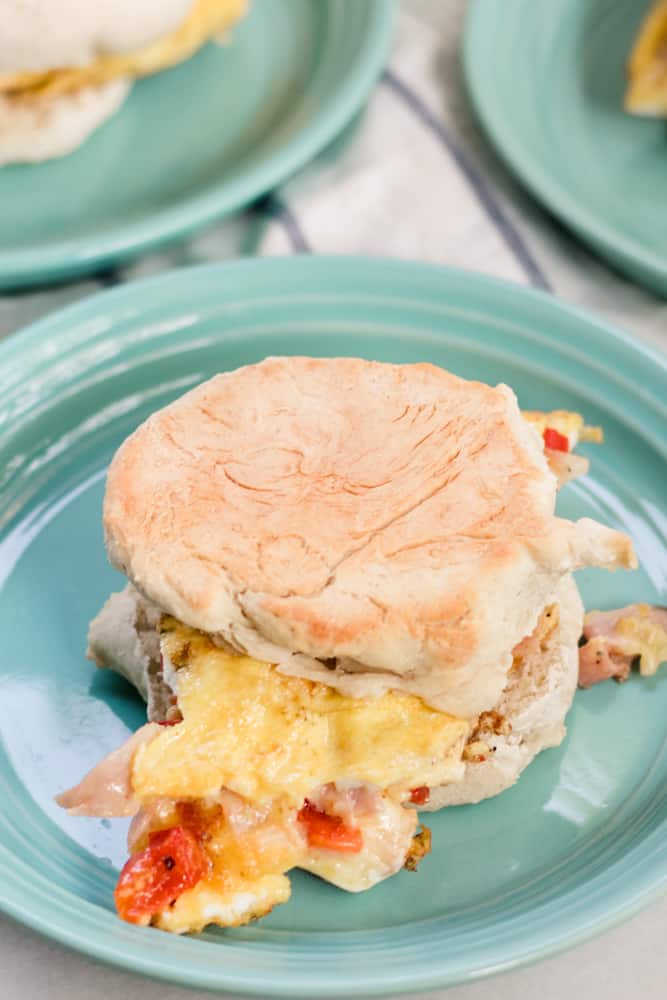 Omelette Sandwich Variations
Although This recipe is served on an English muffin, here is how you can make an omelette sandwich using 2 slices of "normal" bread.
Using the same ingredients above, add butter to the skillet. Whisk eggs, vegetables and meat together in the skillet.
Place 1 slice of bread on top in the center. Add a few pieces of butter to the bread.
As soon as the eggs start to stiffen, flip the omelette over on top of the one slice of bread.
Fold the sides in and add the second piece to the top.
Dot with butter, then flip, searing until it's nice and crispy. Remove from heat and enjoy.
Leftover Omelette
Omelettes are fantastic leftover. Heat up for 20 or so seconds in the microwave, or my favorite, re-melt a touch of butter in the skillet and heat over medium-low until warmed through.
More popular breakfasts
English Muffin Omelette
A classic omelette sandwich recipe cooked in a cast-iron skillet.
Ingredients
3 eggs, whisked
1 tbsp of butter
¼ cup of diced ham
¼ cup of diced bell pepper
¼ cup of sharp cheddar cheese, shredded
Salt and pepper to taste
Instructions
Saute peppers in a 9" cast iron skillet. Remove and set aside.
In the same skillet between medium and medium-low heat, add butter and swish around the bottom.
Add eggs to the skillet. Salt and pepper to taste.
On one-half of the omelette, add the rest of the ingredients.
Reduce heat to low.
When the eggs start to set up, fold the one half over the top of the side with the fillings.
Continue cooking for about a minute before flipping. Remove from heat when the cheese is melted.
Cut in half and serve on an English muffin.