Oxtail Pho is a Vietnamese soup made from beef oxtail and rice noodles. It's one of my favorite soups with its many incredible flavors and textures.
Traditional oxtail pho is made with beef or chicken and allowed to simmer on the stove with a variety of vegetables and herbs for a rich, sweet, yet pungent flavor.
Preparation
We'll need a few key ingredients to start.
The heart of this recipe relies heavily on the oxtail bone broth. Now, you can make it any way you want…
I, however, did not follow the traditional method, partially because living in a small rural community severely limits available ingredients.
So let's get started, shall we?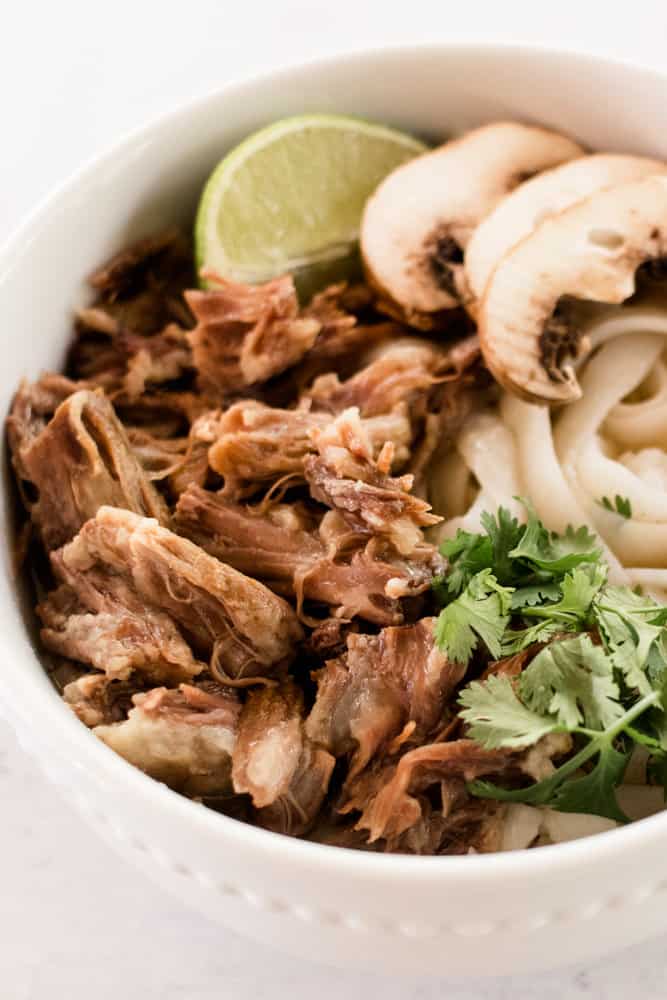 How to make Oxtail Pho
*See the recipe card below for exact measurements.
Step one: Oxtail bone broth
You will need:
Oxtail (which is a beef tail)
Ginger
Onion
Carrots
Garlic cloves
Coriander seeds
Cloves
Salt
The bone broth is actually going to be very simple.
Chop up ginger, onion, and carrots and add to a skillet along with the garlic cloves.
Drizzle with avocado oil and roast in the oven for ten to fifteen minutes.
Add the oxtail, roasted veggies, and the rest of the ingredients to the dutch oven on the stovetop.
Fill with water and bring to a boil. Let it continue to boil for ten minutes.
Reduce heat to simmer, cover and let it go for four hours.
Remove the meat and discard the veggies.
Step 2: Oxtail Pho Recipe
Now that the broth and meat are done, we can make the noodles and put the meal together.
Using Ka-me Pho express rice noodles, bring the broth back to a boil and add the noodles.
Let them cook for approximately 2 minutes or until soft.
Strain the noodles and do not rinse.
Divide the noodles and broth among the bowls and top with beef oxtail, a slice of lime, fresh cilantro and sliced mushrooms.
Enjoy!
Helpful cooking supplies:
This post contains affiliate links, which means I make a small commission at no extra cost to you. As an Amazon Associate, I earn from qualifying purchases. Get my full disclosure here.
Recipe Variations & Tips
All the flavors come together with every bite in this oxtail pho recipe.
What kind of broth should I use?
While this recipe uses oxtail bone broth, you can make your broth with any bones such as beef, chicken, or pork neck bones.
Pigs tail also makes a great broth for soup.
Do I have to use oxtail meat?
Certainly not. Especially since you only get one per beef.
Try making it with a beef tongue or beef brisket. Other options include thin sliced chicken or ham.
What about the spices?
The spices are indeed what make this a Vietnamese soup dish. So don't skimp out on any of them.
Try adding fish oil, star anise, and daikon radishes to the mix for an authentic Vietnamese beef pho recipe.
Don't forget the garnishings
In addition to the ingredients listed, add green onions, hot sauce, and a handful of bamboo shoots for a satisfying crunch.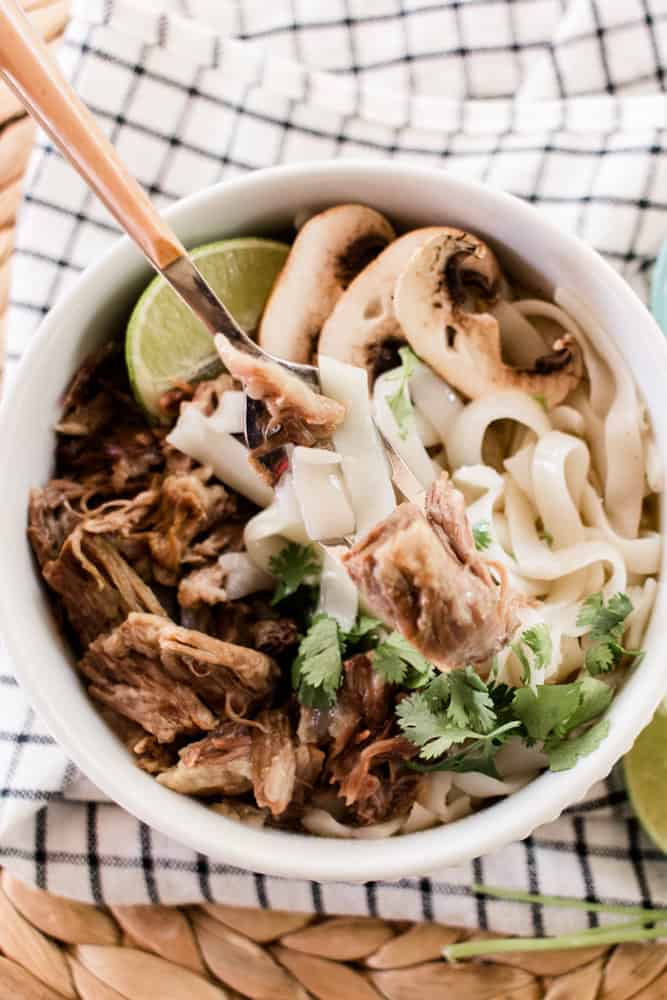 What to do with the extra broth?
Unless you get your hands on multiple oxtails, you will most certainly have plenty of extra broth in the end.
Once the broth has cooled down, transfer it to a freezer-safe container and store it in the freezer for up to six months.
When you are ready to use it, place the broth in the fridge a day or two ahead of time to thaw.
Here are a few great recipes to add your bone broth too.
why you will love this recipe
Naturally gluten-free
Made with healthy, nutritious ingredients
A warm, smooth, and hearty dish
A two-dish straightforward, easy recipe.
I hope you enjoy this delicious oxtail pho recipe! Let me know what you think by leaving a comment below.
What to try next: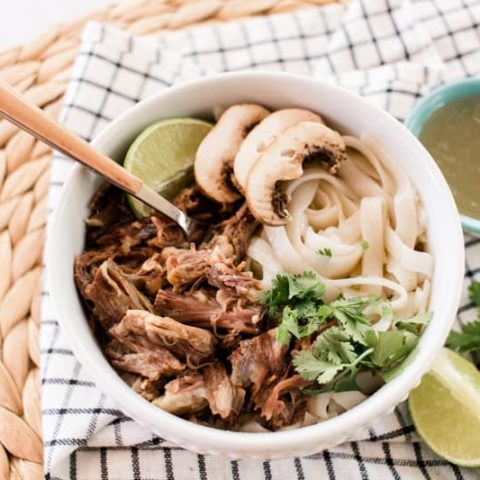 Savory Oxtail Pho
Cook Time:
4 hours
18 minutes
Total Time:
4 hours
23 minutes
A simple oxtail pho recipe with delicious flavors and incredible texture.
Ingredients
1 oxtail
1 small ginger sliced into 1" pieces
1 onion, sliced
2 large carrots, split and halved
5 cloves of garlic
1 tablespoon of coriander seeds
3 cloves
1 1/2 tablespoons of salt
Pho noodles
Cilantro, mushrooms & lime slices for garnishing
Instructions
Add ginger, onion, carrots, and garlic to a cast iron skillet. Drizzle with avocado oil and roast at 425°F for 12 minutes.
Place the oxtail and roasted vegetables into a 7 qt dutch oven.
Fill with 12 cups of water, coriander seeds, cloves, and salt.
Bring it to a boil, let it continue to boil for 10 minutes, then cover and reduce heat to simmer for 4 hours.
Remove the meat and discard vegetables.
Cook the noodles according to the instructions on the package. (don't rinse the noodles after straining)
Separate the noodles among the bowls, top with meat and broth, and add garnishings.
Notes
Stir in 1-2 tablespoons of fish sauce for a more authentic flavor.
Nutrition Information:
Yield:

4
Serving Size:

1
Amount Per Serving:
Calories:

347
Total Fat:

13g
Saturated Fat:

4g
Trans Fat:

0g
Unsaturated Fat:

7g
Cholesterol:

77mg
Sodium:

3257mg
Carbohydrates:

30g
Fiber:

5g
Sugar:

6g
Protein:

29g
This website provides approximate nutrition information for convenience and as a courtesy only. Nutrition is calculated by Nutronionix