Homemade spinach artichoke dip is deliciously creamy and oozing out the top with artichokes and cheese.
I love this easy appetizer simply because it can be made ahead of time and it is always a party favorite.
Coming up with easy party snacks like my stuffed garlic bread or beef enchilada dip that do not demand constant attention is extremely important.
Who wants to always be refilling their dish or setting out more fixings? No one, right?
Why Homemade?
Pre-made artichoke dip is not nearly as delicious as homemade. Quite frankly, it tastes artificial.
Plus, it's jammed packed with ingredients that do not benefit the flavor whatsoever.
On the other hand, homemade artichoke dip can be made with fewer ingredients, served hot, and is ten times as flavorful.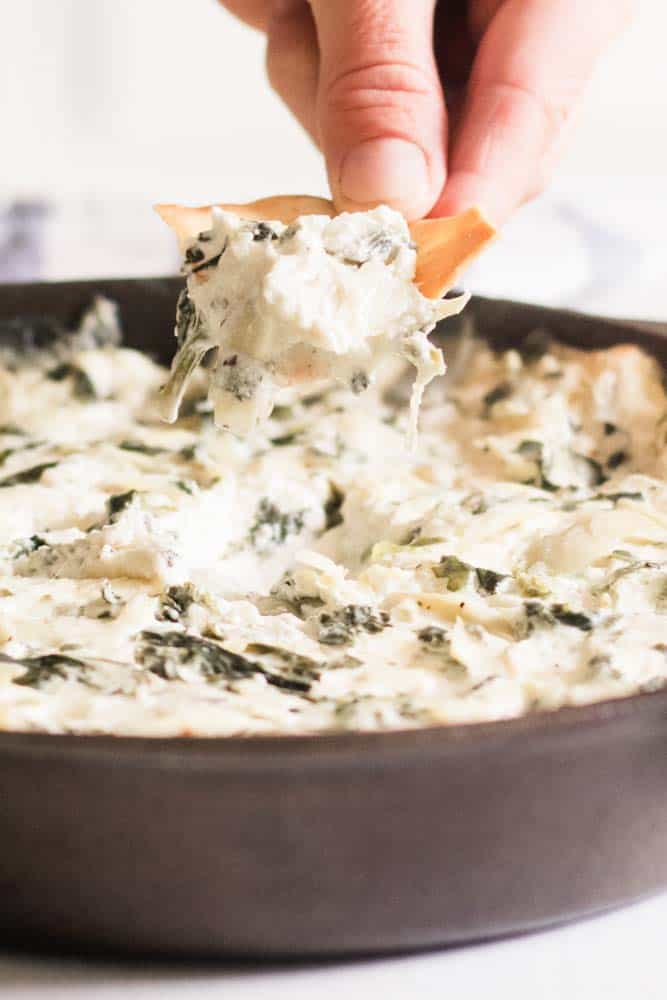 How to Make Spinach Artichoke Dip
Start by setting out a block of cream cheese to soften. Combine Mozzarella and parmesan cheese along with spinach and artichokes. Mix in cream cheese, sour cream, minced garlic, salt, pepper and basil.
Once everything is mixed well, transfer to a small cast iron skillet and bake at 350° for 30 minutes or until the cheese is melted.
To expedite the softening of the cream cheese, cut it up into smaller chunks. This will also aid in incorporating the cream cheese with the rest of the ingredients.
Common Qs
Can I use a hand mixer? Certainly. A hand mixer will give it more of a smooth, creamy texture which is great. I prefer mixing it by hand for a chunky texture.
Do I have to soften the cream cheese? Softening the cream cheese will help it incorporate in with the other ingredients. If you don't have time to soften it, I would use a hand mixer.
Can I make it ahead? Yes, this can be made up to 24 hours in advance. Keep covered and refrigerated.
How long will it keep? This spinach artichoke dip will last for 4 days, covered in the fridge. Reheat in the microwave or oven.
What to Serve With It
This dish is absolutely delicious served hot. My personal favorite is with Stacy's pita chips.
Other common favorites include crackers, tortilla chips and even toasted bread. For a healthier option, try dipping it with carrots, celery or bell peppers.
If a dip is not what you are going for, try these homemade pizza rolls or egg rolls for an easy side, snack, or app.
Baked Spinach Artichoke Dip
Cheesy creamy goodness dotted with chunks of artichoke hearts.
Ingredients
¾ cup parmesan cheese
¼ cup mozzarella cheese
1-14 oz jar of artichoke hearts, drained
½ cup frozen spinach, thawed and drained
¾ cup sour cream
1-8 oz brick of cream cheese
1 clove of garlic, minced
½ tsp salt
¼ tsp pepper
¼ tsp basil
Instructions
Combine cheese, spinach, and artichoke hearts in a medium-sized mixing bowl.
Chop up cream cheese and add it along with the remaining ingredients. Mix well.
Spread the dip evenly in a 10" cast iron skillet.
Bake at 350°F for 30 minutes.
Serve hot.
Nutrition Information:
Yield:

8
Serving Size:

1
Amount Per Serving:
Calories:

223
Total Fat:

18g
Saturated Fat:

10g
Trans Fat:

0g
Unsaturated Fat:

5g
Cholesterol:

52mg
Sodium:

473mg
Carbohydrates:

11g
Fiber:

3g
Sugar:

2g
Protein:

8g
Nutrition is calculated by Nutronionix. All nutrition should be verified independently.