Easy, delicious breakfast pizza skillet to be enjoyed any morning of the week. Made with a sourdough crust and cream cheese sauce, this recipe will satisfy even the pickiest of eaters.
Healthy Desserts for Kids
I don't know about you, but getting my kids to indulge in any dessert is one dilemma I have yet to face in my house.
With that being said, I love having a dessert recipe that I can feel good about giving to my kids.
Now, the first time I actually made this "healthy" fruit pizza was for a Saturday morning breakfast.
How about that for a parent award? It was one of those cold, lazy mornings and I was in no hurry getting myself in gear.
Wanting to stray from the usual morning routine of eggs, I scrounged through the fridge gathering up what random ingredients I could find.
The original recipe may have been slightly different from this one, but the idea was the same.
Fruit Pizza Glaze
Coming up with a glaze for this fruit pizza was the easiest part. I started with a block of cream cheese, which I had set out about an hour earlier, to soften up.
Cream cheese flavor I would describe as sweet, mild with maybe a hint of tang? A perfect combination when paired with the fruit and crust.
Since this is a dessert, after all, add a splash of whipping cream and a drizzle of maple syrup to the cream cheese and whip with a hand mixer.
It adds the perfect amount of sweetness that this dessert was craving.
How to make Strawberry Kiwi Pizza
Before starting, preheat the oven to 375°F. Set the skillet on the middle rack and leave it in there until the oven is preheated.
Once the oven is preheated, remove the skillet from the oven and pour the sourdough directly onto the center of the skillet. Sprinkle evenly with cinnamon sugar. Don't forget the skillet is still hot! I did.
Using oven mitts, set your skillet back on the center rack, baking for an additional 20 minutes.
While that is baking, assemble the glaze by adding cream cheese, heavy whipping cream and maple syrup to a medium-sized bowl and whip with a hand mixer.
Once the crust is finished, spread the cream cheese glaze evenly over the crust and top with freshly sliced kiwis and strawberries. Serve immediately
Make it a Healthy Fruit Pizza
Cast iron fruit pizza is so easy to "customize" to fit your specific needs. If an egg allergy is an issue, well, no worries; no eggs in this dessert.
Swap the sourdough crust for a gluten-free crust following the same instructions.
Instead of pure sugar, try coconut sugar or stevia as a more healthy alternative. Of course, pretty much any in-season fruit is delicious on it.
Just be sure to eat the whole fruit pizza in one sitting; we don't want the crust to get soggy.
How to Make Fruit Pizza dough in a Cast Iron Skillet
As with any dough, when baking with cast iron, the skillet must be preheated before lining with the dough.
Cast iron holds its heat very well, but on the flip side, it does not heat up quickly or evenly. If the skillet is not preheated, the dough will stick, leaving you with a mess no one will want any part of.
As you can see in the pictures, I spread the dough pretty thin and even worked it up the sides a tad. But, there is no judgment if you prefer a thick crust.
Just make it as thick as you want and adjust the baking times accordingly.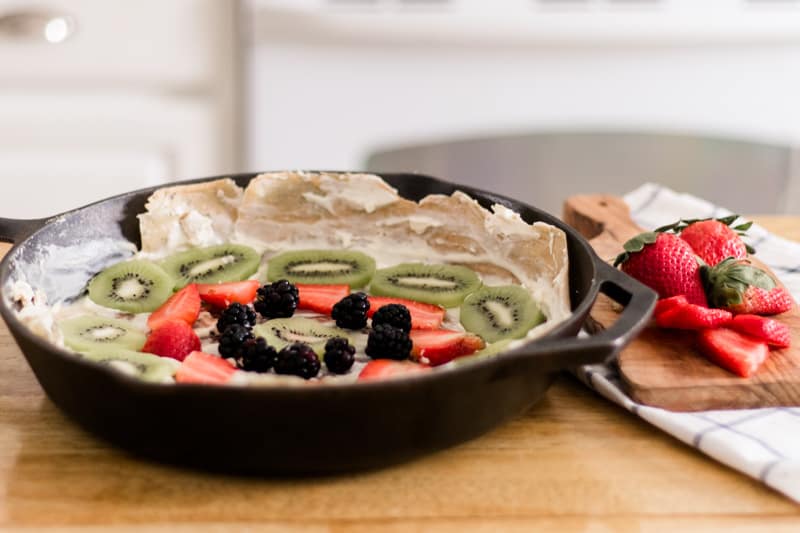 Some more popular favorites:
Cast Iron Strawberry Kiwi Fruit Pizza
Additional Time:
2 minutes
Simple, delicious, and just a little bit different fruit pizza with a cream cheese sauce.
Ingredients
1 cup sourdough
8 oz cream cheese, softened
1/2 cup heavy whipping cream
2 tbsp pure maple syrup
1 tbsp cinnamon
1 tbsp sugar
2-3 kiwis
2-3 strawberries
1/4 cup blackberries
Instructions
Preheat oven to 375°F
Place the cast iron skillet in the oven while it is preheating.
Once the oven is preheated, remove the skillet and add sourdough directly to the center of the pan. Spread evenly across the bottom and up the sides.
Bake for 20 min or until the crust is golden brown.
While the crust is baking, add cream cheese, whipping cream and syrup to a small bowl, whip well with a hand mixer.
Thinly slice kiwis, strawberries and blackberries.
Once the crust is done, spread the glaze evenly over the top.
Top with fruit and serve immediately.
Notes
Use caution while topping the crust. The cast iron will remain hot for quite some time.
Nutrition Information:
Yield:

4
Serving Size:

1
Amount Per Serving:
Calories:

411
Total Fat:

31g
Saturated Fat:

18g
Trans Fat:

0g
Unsaturated Fat:

9g
Cholesterol:

91mg
Sodium:

253mg
Carbohydrates:

30g
Fiber:

4g
Sugar:

18g
Protein:

6g